Profile
Swiss Pack is a leading manufacturer of flexible packaging materials, specialising in stand up resealable packaging, coffee valve packaging, block bottomed bags, spout pouches, printed rewind rolls, shrink sleeves, degassing valves, zippers and scoops. The Company has quickly developed into the World leader for stock stand up pouches, with a range that is unrivalled in any territory. All items are manufactured in a modern and fully automated factory located in Baroda, India. Utilizing state of the art printing machinery, Swiss Pack is able to supply customers with precise and detailed rotogravure printed materials. With sales offices in USA, Canada, Australia, New Zealand and United Kingdom, the Company is well placed to provide worldwide coverage and support to customers, right from conceptual brief, through to graphic design and final production.
Market Sectors
For over two decades Swiss Pack has provided superior flexible packaging to customers within the following market sectors: Food, Beverage, Medical and Pharmaceutical products, Industrial goods, Health and Beauty, Household products, Nutritional and Supplement products, Retail and Pet Food products.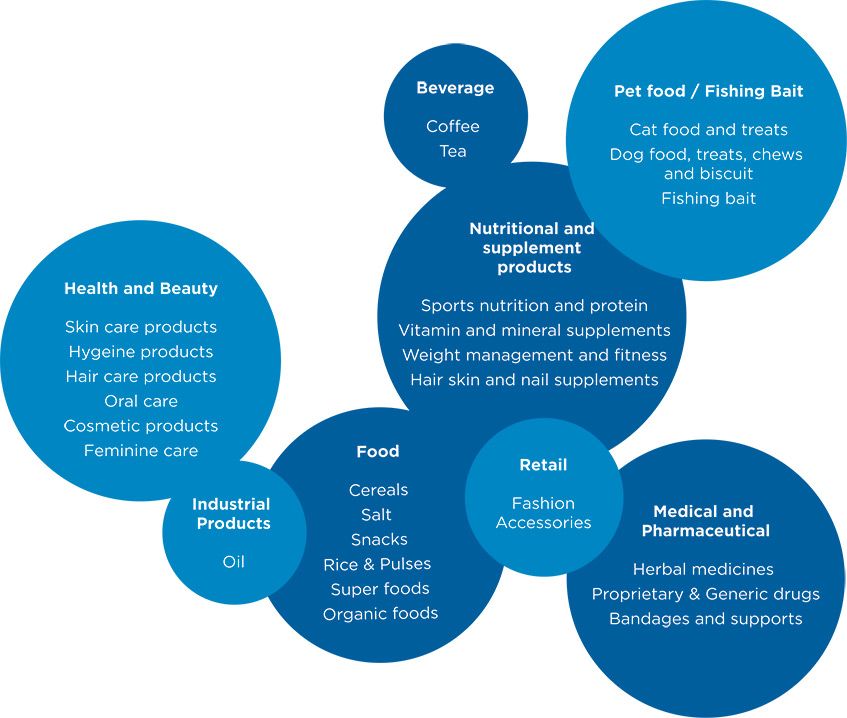 Development and Quality Assurance
Swiss Pack continues to be a leading developer, manufacturer and supplier of flexible packaging solutions. Driven by technology and innovation, Swiss Pack is at the forefront of delivering solutions for new applications, through continuous development and testing of new films, adhesives and varnishes. This development and innovation is at the core of our business so that we can offer customers superior products that deliver the utmost quality in terms of strength, durability, protection and performance. With advanced barrier properties we strive to ensure all our products are fully compliant and wherever possible exceed relevant Industry quality, performance and hygiene standards. Swiss Pack is certified under ISO 9001/2000 and is in the process of applying for BRC accreditation, placing it in the highest standards of quality in the industry. In addition, each and every stage of the production process is thoroughly monitored and tested.